Admission Procedure
I Admission Procedure
1.Online Application
Please register first if you don't have an account. Each valid email address can be registered only once.The email address and password you used in registration are the only credentials to enter the system.
User Manual:
1) Visit https://iec.gdut.edu.cn,click the "Online Application" and then proceed with the application, or visit https://apply.gdut.edu.cn/ and continue with a guideline.For best experience we recommend Google Chrome,360 and Firefox Web Browser.
2) Complete the registration and log in the system, and "Start Applying".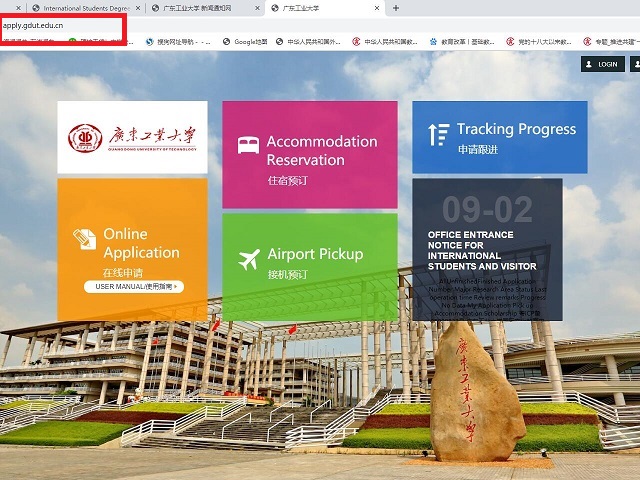 2. International student applicants download and fill the application forms and submit the needed documents.
1)
Application Form for International Students For Degree Study.doc
2)
Application Form for International Students For Language IFC study.doc
3. Evaluate and approve by GDUT
4. International Education Center then proceed to"Visa application for study in China"(Form JW202) application.
5. With authorities approval, IEC will issue Admission Letter and Form JW202 to international student applicants.
6. International Students admitted to GDUT may apply for your visa (X1/X2) at the Chinese Embassy/Consulate in your home country with Admission Letter and Form JW202. International students who will study in China for over 6 months are required to obtain X1 Visa, which will only be valid for 30 days after your arrival in China. You must come to the International Education Center and apply for a Residence Permit within 30 days in order to obtain a legal status in China.
When register, international students who are holding the visa of other Chinese University need to provide the Transfer Certificate or the Study Certificate.
7. International students come to GDUT to finish the registration and related procedures.
II Fees
1. Tuition
Programs

Tuition

Undergraduate Programs: 4 years

RMB18000 /year

RMB26000/year(For Fine Arts study)

Undergraduate Programs: 4 years

English-Taught

RMB22000 /year

Master's Programs: 3 years

RMB20000 /year

Doctoral Programs: 3 years

RMB22000 /year

Chinese Training: 1 month to 2 years

RMB2300/month

RMB6000/3 months

RMB8000/semester

RMB16000/year
2. Application Fee (Not Refundable)
English-Taught Degree Programs: RMB500/person
Chinese-Taught Degree Programs: RMB400/person
Chinese Training Programs: RMB400/person
3. Accomodation
Campus

Standards

Charges

Higher Edu. Mega Campus

Block 11,Eastern District

Single Room

RMB8000/6 Months,RMB16000/Year

Twin Room

RMB4500/6 Months,RMB8000/Year

Quad

RMB2200/6 Months,RMB4000/Year

Dongfeng Campus

Block 8

Single Room

RMB8000/6 Months,RMB16000/Year

Twin Room

RMB5200/6 Months,RMB9600/Year

Triple

RMB3200/6 Months,RMB6000/Year

Longdong Campus

Block G

Twin Room

RMB4000/6 Months,RMB7200/Year
4. Campus WiFi Access
Wireless access to the campus network and Internet is provided by GDUT WiFi access points and is available in all centrally-administered classrooms, public areas in the campus, department offices. The University staffs and students including international students can connect to the campus WiFi service via the SSID "gdut".
WiFi Service Request: Contact International Student Affairs Office
Registration Fee: RMB30/Person
WiFi Service Fee: RMB30/Month,enjoy unlimited access of WiFi service.
Note: Deposit for campus accommodation is RMB1500/person which will be refunded when check-out.Bills of beddings,campus WIFI service,water and electricity are not included.Fees above-mentioned are subject to change.
III Bank Information
Pay in China

在中国境内支付

账户名称:广东工业大学

单位地址:中国广州大学城外环西路100号

开户银行:中国工商银行广州市第三支行

银行账号:3602028909000196985 (子号码:000000001)

Pay Out of China

在中国境外支付

银行名称:中国工商银行广东省分行

Bank Name:

Industrial and Commercial Bank of China,Guangdong Provincial Branch

银行账户名称:广东工业大学

Bank Account Name: Guangdong University of Technology

银行账号:3602028909000196985

Bank Account Number: 3602028909000196985

银行国际代码:ICBKCNBJGDG

Bank SWIFT Code: ICBKCNBJGDG

银行电传:441016 ICBHS CN

Bank Telex: 441016 ICBHS CN

CNAPS:102581000030
NOTE:The final interpretation by IEC shall prevail.
Contact
Ms ZHUANG Lanfang,Mr ZHANG Ge
International Student Affairs Office
Office: Room 721,Library Building,Dongfeng Campus,GDUT
Address: No.729 Dongfengdong Road,YueXiu District,Guangzhou,P.R.China (510090)
Tel.: 0086-20-37626172 37626171
Email:admission@gdut.edu.cn